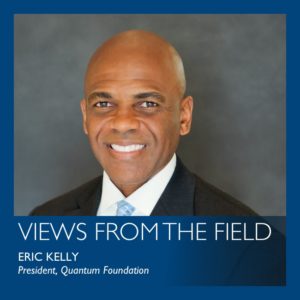 Eric Kelly, President, Quantum Foundation
For health funders, it is essential that we realize that even given all of the unforeseen devastation of COVID-19, and the compounding social crises in its wake, many of our communities began 2020 already in a health crisis. These pre-existing conditions allowed a global pandemic that does not discriminate to produce drastically disproportionate health implications from community to community and population to population. Social conditions completely determine the resilience of a community's residents to the health and social impacts of the virus and an individual's ability to practice safe health behaviors.
At Quantum Foundation we are applying a health equity lens to our work. It is clear through data, conversations, and a deeper understanding of our local history that not all communities provide residents equal opportunities to live a quality, healthy life. In fact, systemic exclusionary policies and institutionalized exploitative practices perpetuate health and social disparities in some communities to a degree that philanthropic and public resources are in constant demand to treat the symptoms, however they often miss the root causes. Further exacerbated by intergenerational and structural lack of opportunity for upward mobility, these communities are often left overserved yet underinvested and without equitable life outcomes.
Prior to the pandemic, these communities lacked appropriate health care access, affordable housing, quality education, economic mobility, or employment systems that were accessible or easy to navigate. The lack of resources physically located in these communities have created a chasm, separating residents from the equitable opportunities needed to improve the trajectory of their quality of life expectancy.
These existing gaps in access to opportunity, compounded by the rapid shift to online services in health care, education, employment and social services, have further expanded equity gaps. Additionally, unmanageable burdens have been placed on health care, nonprofit, and grassroots providers.
Achieving Health Equity: Our Way Forward
The first step to achieving health equity is understanding that one treatment protocol is not effective for all individuals and communities. In the same way that a sick patient requires different treatments than a healthy patient, a community that is not well needs a unique set of solutions and resources. Fortunately, through a social determinants of health framework, we are better equipped to solve for community wellness at the individual and collective levels.
In March of this year, Quantum Foundation Board of Trustees unanimously approved the foundation's strategic plan: Health Equity: Our Way Forward. The approval was the culmination of two years of strategic planning which included listening, learning, and collaborating with partners from the grassroots level in communities, across private and public sectors, to thought leaders driving system improvement nationally. This collaboration also affirmed the foundation's evolution to address the full spectrum of social determinants of health.
"Our way forward" through these challenges of inequity is to build from our 20+ years of relationships across multiple systems to improve life trajectories in disinvested communities. We will do this in partnership with our grassroots providers and residents themselves. Our ability to serve as the connective tissue of system leaders and the boots on the ground in communities has proven essential to align resources to those most in need and establish our shared vision to overcome the disparities that existed prior to the pandemic.
Heal the Digital Divide
The pandemic has made it clear that access to technology is essential for everyone. Moving forward, the shift to technology to deliver health, educational, employment, and social services will continue. This digital shift will continue to exacerbate a multitude of existing social disparities in disconnected communities.
Our health systems can be more effective when individuals are able to access and navigate those other socioecological systems. To a large degree, the cost burdens, time burdens, and transportation challenges associated with receiving health care have made maintaining quality health infeasible for our most vulnerable populations.
if we accelerate access and inclusion to virtual health care and social services, we can shape community health in a way that meets the needs of each individual. If we can achieve digital equity, technology has the potential to provide opportunities and access to resources that determine quality life outcomes that may not exist in currently disconnected communities.
Quantum Foundation is leveraging cross-sector partnerships and investments to holistically close the digital divide in our most underinvested and underserved communities. We commend the leadership across our local governments, school districts, business communities, and nonprofit agencies to close the digital divide. As technology has become increasingly essential:
$20 million has been committed by Palm Beach County board of commissioners to close the gaps in broadband infrastructure.
$45 million has been allocated by The School District of Palm Beach County to provide personal devices and internet solutions for all students.
$1.5 million has been contributed by philanthropic support to ensure all residents have access to technology.
Quantum Foundation has committed $300,000 as part of the partnership with local stakeholders to develop a unique and replicable, holistic approach to close the digital divide by establishing full-time Community Technology Navigators. These navigators will assist the residents in this system-wide effort of technology distribution and work to improve individual abilities to use technology effectively.
An Equitable New Normal
Moving forward, we hope to utilize these efforts as a launching point and a case study for continued collaboration across public, private, and nonprofit stakeholders. Our goal is to align these voices with those from the communities and establish a shared vision for a more equitable new normal.
---
References
Kent, Ana, Lowell Ricketts R., and Ray Boshara. What Wealth Inequality in America Looks Like: Key Facts & Figures. Federal Reserve Bank of St. Louis, August 14, 2019.
Purnell, Jason Q. and Anjum Hajat, The Health and Wealth Connection: Opportunities for Invest­ment Across the Life Course. Asset Funders Net­work, 2017.