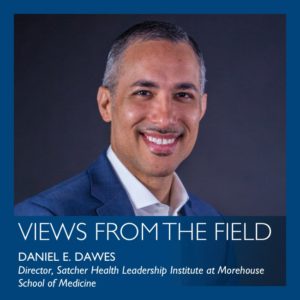 Daniel E. Dawes, J.D., Director, Satcher Health Leadership Institute at Morehouse School of Medicine
We are in the midst of a crisis, and not all of us will have the privilege of living through it. Caridad Santiago was 43 years old when her teenage daughter found her dead at their Bronx home after she had shown COVID-19 symptoms (Acevedo 2020). For 13 years, Caridad had been a station cleaner for the Metropolitan Transportation Authority in New York City and had served the city as an essential worker. When she started showing symptoms, she reached out to the city's coronavirus hotline and other services, but she did not receive answers quickly enough. It was not until after she had passed that Caridad's family received a call back from the coronavirus hotline. Caridad's life was essential and her loss will forever devastate those who knew her. Yet that loss was in many ways both foreseeable and preventable.
Since January 2020, the United States has had led the world in the number of deaths attributed to the coronavirus, and morbidity and mortality rates continue to rise (Johns Hopkins University & Medicine 2020). Data have demonstrated that racial and ethnic minority groups are disproportionately impacted by the disease, and African-American/Black, Hispanic/Latinx, Native American, Native Hawaiian, and Pacific Islander populations are more likely to die from COVID-19 than other populations (Artiga et al., 2020; Wolfe, 2020; Taylor, 2020; Mays and Newman, 2020).
In many ways, this is unsurprising. National crises tend to magnify inequities in our society. COVID-19 is not striking all Americans equally because our economic and social policies do not affect all Americans equally. It is not a coincidence that certain groups of people living in the United States experience higher premature death rates or poorer health outcomes than others. Research has shown that air pollution; climate change; toxic waste sites; unclean water; lack of fresh fruits and vegetables; unsafe, unsecure, and unstable housing; poor-quality education; inaccessible transportation; lack of parks and other recreational areas; and other factors play an outsized role in determining our overall health and well-being. They increase our stress, expose us to harmful elements, and limit our opportunities to thrive. The inequities that predate COVID-19 have not been furloughed and the systemic perpetrators of these inequities are actually working overtime.
Too often we stop at these social drivers of inequities, however, and miss the link between social determinants of health and their political roots. Every social determinant of health is preceded by a political action, inaction, or impetus. Political determinants of health create the social drivers—including poor environmental conditions, inadequate transportation, unsafe neighborhoods, and lack of healthy food options—that affect all other dynamics of health. By understanding the political determinants of health, their origins, their impact on the equitable distribution of opportunities and resources, and their interconnection with the social determinants of health, we will be better equipped to develop and implement actionable solutions to close the health gap. Further, by understanding and grappling with the role of the political determinants of health, the institutions in our society that exist for the sole purpose of advancing the greater good can assist in moving health equity from theoretical to actionable. Take for example the multitude of health foundations that have long served as pillars in the health equity movement. These bastions of philanthropy could yield greater and more targeted returns on their investment if they were to embrace the role of the political determinants of health and incorporate them into their decision-making and funding strategies.
Over the course of our history, America has displayed a modicum of success in crafting and implementing more inclusive health policies in the wake of natural disasters, recessions, and wars. However, we have not been nearly as successful in advancing equitable policies in the wake of epidemics or pandemics. If we understand that the true drivers of health inequities in our society are political in nature and commit ourselves to the work of righting these wrongs, we still have hope. For funders, this will mean ramping up philanthropic investments in political education, community organizing, issue advocacy, civic engagement, and policy change. We are in the midst of a crisis, but decisive action now can make all the difference.
---
References
Acevedo, Nicole (2020, April 10). Hit the hardest by coronavirus deaths, NY Latinos mourn loved ones. NBC News.  
Artiga, S., Orgera, K., Pham, O., and Corallo, B.  (2020, April 21).  Growing Data Underscore that Communities of Color are Being Harder Hit by COVID-19.  Kaiser Family Foundation. 
Dawes, D. E. (2020). The political determinants of health. Baltimore, MD: Johns Hopkins University Press. Johns Hopkins University & Medicine Coronavirus Resource Center.  (2020).  Racial Data Transparency.  
Mays, J.C. and Newman, A. (2020, April 8).  Virus is Twice as Deadly for Black and Latino People than Whites in N.Y.C.  The New York Times.
Taylor, K-Y.  (2020, April 16).  The Black Plague.  The New Yorker. 
Wolfe, J. (2020, April 6).  African Americans more likely to die from coronavirus illness, early data shows.  Reuters.