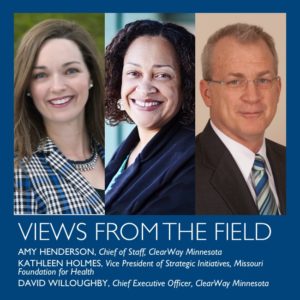 Amy Henderson, Chief of Staff, ClearWay Minnesota
Kathleen Holmes, Vice President of Strategic Initiatives, Missouri Foundation for Health
David Willoughby, Chief Executive Officer, ClearWay Minnesota
Some foundations institute time-limited initiatives to maximize resources. Others adopt a spend-down approach to have impact within a short organizational lifespan. Both situations provide opportunity for a health-focused foundation to accomplish goals with urgency, but pose the challenge of doing so without the luxury of time. ClearWay Minnesota and Missouri Foundation for Health (MFH) have embraced strategic and tactical advantages of being life-limited and having time-limited programs, respectively, to address persistent health issues.
ClearWay Minnesota is a limited-life organization founded in 1998 when Minnesota settled with major tobacco companies. The organization was established with $202 million and a maximum lifespan of 25 years to reduce the harm tobacco causes the people of Minnesota. It has funded over $210 million in grants and programmatic contracts in areas of research, cessation, community development, communications and public affairs. Over 20 years, ClearWay Minnesota, together with partners, saved Minnesota over $5 billion in health care and worker productivity costs and prevented 4,118 smoking-attributable deaths. As the organization moves to sunset in 2021, it has shared learnings on setting ambitious goals, pursuing innovative strategies in combination with evidence-based practices, and measuring achievements to have maximum impact.
Limited life allowed ClearWay Minnesota to focus on strategic initiatives and pursue its mission with urgency and innovation. The organization identified three ambitious Legacy Goals to define success after sunset:
Reducing smoking prevalence to less than 9 percent
Reduce exposure to secondhand smoke to less than 5 percent
Advance the science of eliminating tobacco-related health disparities
Evaluating our work informed strategic planning, helped improve programs, contributed to the evidence base and provided accountability and transparency for the organization. Strategic planning meant it could remain focused and intentional about sustaining meaningful impact and develop capacity for others to carry the charge forward beyond its existence. This focus ensured ClearWay Minnesota devoted adequate resources to its goals, instead of spreading itself thinly across too many areas.
In addition to providing direct services like tobacco-cessation programs, the organization focused on change on a large scale. Priorities included systems change, capacity-building within diverse communities, and, especially, passing public policies. ClearWay Minnesota's support enabled passing a comprehensive smoke-free law and historic tobacco taxes, ensuring tobacco laws apply to e-cigarettes, increasing the tobacco sales age to 21 and restricting flavored tobacco sales. Strong policies create impacts that stay in place and benefits that grow for generations.
Despite this, smoking's harms will persist after ClearWay Minnesota's sunset. As part of its legacy, it partners with other organizations to share knowledge and influence ongoing, sustainable tobacco control work. The organization leaves behind many publications sharing lessons learned and advancing science.
Missouri Foundation for Health (MFH), another independent philanthropic foundation, was created in 2000, following Blue Cross Blue Shield of Missouri's conversion to for-profit status. With a wide-ranging mission to eliminate underlying causes of health inequities, transform systems and enable individuals and communities to thrive, the foundation maintains a mix of enduring programs and time-limited strategic initiatives.
The latter comprehensively drive meaningful change on specific health issues. As no two issues are alike, the design of each strategic initiative is unique in timeline, goal, resource requirements and philanthropic tools used to create change. While MFH's work is impactful, no 5-10-year initiative can eliminate entrenched issues with complex sets of mitigating factors, so a need exists to plan timely exits and sustain positive outcomes into the future.
Three initiatives from the foundation's history provide examples of this approach. Begun in 2002, its first comprehensive effort, Tobacco Prevention and Cessation Initiative (TPCI), was developed to reduce Missouri tobacco use, especially among young people, over 10 years. While TPCI began by educating Missourians about smoking's risks and increasing access to cessation programs, policy activities incorporated early on were instrumental in the initiative's success and continue to pay dividends nine years after its end. It concluded with over 35 local smoke-free ordinances in place, and thanks to advocates cultivated throughout the initiative, additional ordinances have been implemented since.
In 2012, based on the success of TPCI, MFH envisioned "going big and going long" as key to its strategy. MFH committed financial and staff investments on four key health issues while also supporting community-based ideas and continuing a significant health policy focus. At this time the Infant Mortality Reduction Initiative (IMRI) was developed to reduce infant deaths and close the gap in mortality rates between Black and White babies in portions of St. Louis and the counties that make up Missouri's Bootheel. Network development within the two regions leveraged multiple stakeholders and sectors to address complex factors impacting infant health, catalyzing changes in transportation, housing, home visitation and behavioral health benefiting women and infants and families at a systems level. IMRI also launched a state-wide network to increase infant health by promoting women's health before, during and between pregnancies. Designed to be independent of MFH, the network provides opportunities for stakeholders to collaborate on issues of women's reproductive health, behavioral health, and health across the lifespan far into the future.
This network aligns with another MFH initiative, The Right Time (TRT), which builds sector capacity to accomplish its time-limited goal and extend impact past the life of the initiative. Established in 2017 and running through 2024, TRT seeks to reduce Missouri's unintended pregnancy rate by 10%. This will be accomplished by increasing supply and demand for effective contraceptive services, while enhancing environmental factors essential to improving access to high-quality contraceptive care.
In any given year, approximately 350,000 low-income Missouri women need contraceptive services to prevent unintended pregnancy. With public funding insufficient and unreliable, additional system-level changes are necessary. An essential approach within TRT is to improve operations of clinics providing family planning services. Opportunities have been identified and activities are being implemented to improve this care system in ways sustainable past MFH support. System-wide changes affecting health service sites include adopting a pregnancy-intention screening tool, improving clinical staff training, updating protocols, providing reduced-cost access to contraceptive options, and improving patient-flow mechanisms. While it's too early to describe TRT's impact, similar efforts in the U.S. have reduced unintended pregnancies, and clinical improvements continue benefiting women seeking care while empowering them to make reproductive decisions on their own terms.
Whether an organization's time to work on a health issue is limited due to the imposed sunset of a foundation or initiative, there are effective approaches that allow for goal attainment and guarantee the positive impacts will be extended. The experiences of ClearWay Minnesota and Missouri Foundation for Health show the importance of a wide range of approaches, including system-level interventions, community and network development, capacity-building and support of policy change, to effectively address stubborn health issues now and into the foreseeable future.
For additional information on ClearWay Minnesota please visit their website: www.clearwaymn.org.
For additional information on Missouri Foundation for Health please visit their website: www.mffh.org