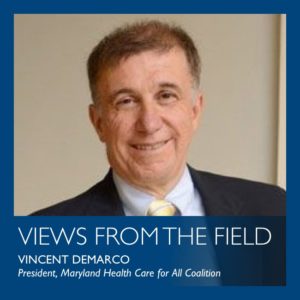 Vincent DeMarco, President, Maryland Health Care for All Coalition
I am deeply honored to receive the 2020 Andy Hyman Health Care Advocacy Award from Grantmakers In Health. Like many of my fellow health care advocates around the country, I considered Andy Hyman a hero. He did so much to build the health care advocacy infrastructure around the country, laying the groundwork for the historic passage of the Affordable Care Act in 2010. He was always there for my organization, providing both financial support and excellent advice and guidance. I am also deeply grateful to the Horizon Foundation for nominating me for this award; Horizon is a valued partner and, in its own right, a force in the health care arena.
My organization, the Maryland Citizens' Health Initiative (MCHI) Education Fund, has made tremendous progress in expanding access to quality, affordable health care and improving public health. These achievements have only been possible because of our great fortune to work with a bold philanthropic community that is invested in strategic advocacy and public health.
Back in 2000, more than a decade before the ACA was enacted (and before most foundations were funding advocacy), local foundations took a chance on our organization and provided support for our grassroots campaign to develop a "Health Care for All!" policy plan, that, if fully implemented, would ensure that all Marylanders had access to quality, affordable health care. Our funders understood that the systemic change we sought took time and provided multiyear grants which laid a strong foundation from which to build a powerful movement.
We tested the plan with a poll to gauge support for this agenda. Equipped with impressive results, we launched a public education campaign and developed a resolution for supporters to sign expressing their support for the plan. This resolution and growing list of endorsers provided a simple "ask" of coalition members and served as a valuable tool to demonstrate the growing tide of support for our agenda to funders, legislators, editorial boards, and the public. Foundation support gave us the capacity to host media events to highlight poll results and announce endorsements from key organizations. These were the tools we needed to launch a series of successful state policy campaigns.
This process is what we call our "six-step model" for advancing public health policy goals. (You can see a video describing the six steps at www.healthcareforall.com/sixsteps.)
Over the past twenty years, we are proud that Maryland has enacted laws to expand Medicaid coverage, fund health care, and meet public health needs—including mental health and drug treatment programs, help for people with developmental disabilities, and targeted support for areas with high health care disparities. We championed these policies with funding solutions that also advanced public health goals: tobacco and alcohol tax increases.
None of this was easy. Some campaigns took years to win, and we often had to battle well-funded special interests determined to preserve the unhealthy status quo. Our funders understood that they did not need to match opponents' resources dollar-for-dollar in order to have a significant impact. They proved that investing in smart advocacy could deliver the outcomes and long-term systems change necessary to advance their mission. I am both humbled by and grateful for their vision and collaboration.
Funders also play an important role in policy development. Rigorous evaluation of the long-term impact of the policies for which we advocate can also help build support for continued policy action and keep allies engaged. "Public Policy in Maryland: Lessons from Recent Alcohol and Cigarette Tax Policies" is a terrific example from The Abell Foundation in Baltimore.
After the ACA was enacted, we worked hard to make sure that Maryland was a leader in fully implementing expanded health care coverage. We expanded Medicaid coverage as much as the ACA permitted and created a state-based exchange. Under both Democratic and Republican Governors, our state has been doing all it can to get people insured. Working with a diverse and effective coalition, we successfully advocated and obtained health care coverage for more than 400,000 formerly uninsured Marylanders which cut Maryland's uninsured rate from 13 percent to 6 percent.
In 2019, we led the fight to enact two first-in-the-nation laws: one creating a Prescription Drug Affordability Board to make high-cost drugs more affordable for Marylanders, and one establishing an Easy Enrollment Insurance Program utilizing the tax system to get uninsured people enrolled in health coverage. This program has been a great success with over 40,000 Marylanders indicating their interest in getting low or no-cost health insurance through the Maryland Health Benefit Exchange, and thousands getting health insurance coverage this way.
Foundations continue to shape the field of advocacy in powerful ways. Our colleagues in other states can only succeed, however, if they have the same kind of support from local funders that we have had in Maryland. Funders like the Horizon Foundation played a critical role with advice and ideas. Their direct financial support was, of course, important—but they also connected us with other funders, allowing us to build our funding base. 
I urge state and local funders across the country to honor Andy Hyman's legacy and support local health care and public health advocates trying to make real change in the health care system. The work is hard, and the opposition is formidable. But with the right support and resources, the Maryland story is achievable in state capitals across the country.