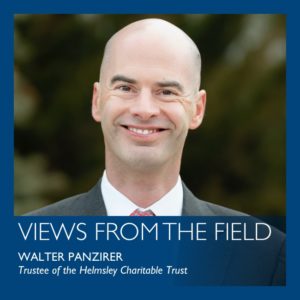 Walter Panzirer, Trustee, Helmsley Charitable Trust
In the early days of the COVID-19 pandemic, the Helmsley Charitable Trust was compelled to do our part. We have long been committed to close and productive relationships with our grantees, so in the early days of the crisis, every program was in deep listening mode with its grantees, trying to understand how our grant dollars would be most valuable. Like most philanthropic organizations, we were determined to maximize impact and make grants quickly, while also adhering to our due diligence standards.
The Trust made its first COVID-19 response grants in late March, addressing a variety of needs. Funds enabled nearly a dozen hospitals across Israel to set up dedicated COVID wards and purchase ventilators and personal protection equipment (PPE). Our Crohn's Disease program funded patient support, as well as the creation of a database to understand the impact of COVID-19 on people with Crohn's disease. Our Type 1 Diabetes program provided unrestricted support to nearly 60 diabetes clinics across the country, which many used to transition to telehealth services. Notably, the program also contracted with Cecelia Health so that their certified diabetes educators could be available to any clinic that needed assistance with the transition to telehealth. In New York City, our emergency grantmaking focused on food security and helping providers of health care services for the homeless respond to the pandemic.
Rural health care is a priority area for the Trust, dedicated to improving access to and quality of care in the upper Midwest. The Rural Healthcare Program funds innovative projects that use telemedicine and other information technologies to connect rural populations to specialty medical care, bring the latest medical therapies to patients in remote areas for health care personnel to serve in rural areas. Our Rural Healthcare Program responded to the pandemic by striking a balance between addressing immediate needs and creating long-term improvements in the delivery system. The Trust did not want to duplicate grants for items that could be purchased by other means, such as through the Coronavirus Aid, Relief, and Economic Security (CARES) Act funding passed by Congress in March 2020, instead choosing to make an impact in unique areas via innovative strategies.
Health care facilities have seen tremendous revenue losses due to COVID-19; many hospitals reported losing more than a million dollars a day during surge and peak periods. Although many providers were already on the brink of closure prior to the pandemic, we believed philanthropy's responsibility went beyond keeping the lights on and the doors open. We knew there had to be a way to address the immediate needs and support a better system of care for the long-term. That solution became clear when news reports and studies (Guo et al 2017) (Inciardi et al 2019) began to reveal that cardiac arrest was an aftereffect for many patients who recovered from the respiratory damage caused by the virus. Disturbing reports (NBC 2020) (Washington Post 2020) surfaced of cardiac patients left unattended due to concerns that medical personnel would be exposed to COVID-19 while administering hands-on cardiopulmonary resuscitation (CPR).
Mechanical CPR emerged as a logical solution, since patients could be resuscitated without compromising PPE or causing an extended risk of exposure to a person giving CPR. The Trust was an early investor in mechanical CPR devices (also known as "LUCAS devices") and had already funded over 2,000 units to Critical Access Hospitals and emergency medical services throughout our seven-state region. The Trust also made additional mechanical CPR units available to large, referral hospitals. We believed this was a win-win, as more facilities would have the LUCAS devices available for COVID-19 patients as well as having more of these effective, life-saving tool for future needs.
The challenge then became identifying which facilities would use the devices, and then getting them secured, purchased, and deployed prior to the surge and peak periods throughout South Dakota, North Dakota, Montana, Wyoming and Nebraska. Our small team of program staff put in long hours of needs-assessment, contacting hospitals in those five states and encouraging them to ask for as many of the devices they thought would be useful. Once the appropriate supply numbers were determined, the team worked closely with the manufacturer and other partners within the states to purchase and ship the devices as soon as possible. The efforts led to the first orders in operation within two weeks of the project's start and the rest followed shortly thereafter. In total, 367 new LUCAS devices were put in service ahead of the anticipated peak caseload in all five states.
The most important lesson we learned through our COVID-19 response efforts was that we could quickly and effectively deploy life-saving technology that could both provide immediate impact for patients during the pandemic as well as improve the cardiac system of care for years to come. We also demonstrated how nimble the Trust could be as an institution, making more than 100 grants in less than three months. Our teams worked tirelessly and even amidst the personal challenges so many were facing, we got it done. We fully realize that the pandemic is not over, and philanthropy will continue to be a vital part of crisis recovery efforts. Funders will continue to respond by finding solutions to these ever-changing challenges and we will continue to search for opportunities to meet the needs of vulnerable people in the short and long term.
---
References
Cha, A. E. Hospitals consider universal do-not-resuscitate orders for coronavirus patients. March 25, 2020.
Guo T, Fan Y, Chen M, et al. Cardiovascular Implications of Fatal Outcomes of Patients With Coronavirus Disease 2019 (COVID-19). JAMA Cardiol. 2020;5(7):811–818. doi:10.1001/jamacardio.2020.1017
Inciardi RM, Lupi L, Zaccone G, et al. Cardiac Involvement in a Patient With Coronavirus Disease 2019 (COVID-19). JAMA Cardiol. 2020;5(7):819–824. doi:10.1001/jamacardio.2020.1096
Winter, T. Grim new rules for NYC paramedics: Don't bring cardiac arrests to ER for revival. April 2, 2020.