Michael Monopoli
,
Executive Director
,
DentaQuest Foundation
At the turn of this century, then Surgeon General Dr. David Satcher put out the first Surgeons' General Report on oral health and declared that poor oral health was a "silent" epidemic that impacted much of the United States. That declaration was a pivotal moment that increased salience and spurred action around the issue. Nearly two decades later, however, the epidemic persists, albeit with less silence. Caries continue to be the most common chronic childhood disease and periodontal (gum) disease continues to impact many adults and has been associated with numerous general health problems.
The report also increased awareness that these conditions impacted segments of the population disproportionately and that disparities in oral health status was a social justice issue. To improve health equity and to live up to our ideal of justice in the United States, funders have recognized that different populations require different solutions– there is no magic bullet or one-size-fits-all approach. Philanthropies, particularly in the health space, are faced with the challenge of balancing the need to respond to urgent, community needs that can be addressed by more programmatic initiatives, and taking an upstream systems-change approach that often requires more time and resources, and with results that are not immediately apparent, but foster long-term improvements. Above all, it is important to distinguish that in a just and fair society, funded solutions should support a system that allows people to access quality health care when and where they need it and be empowered to support an environment that sustains health.
In 2000, the Oral Health Foundation began as a local funder, investing in programmatic grants in Massachusetts. These grants aimed to increase access to care and providers, and focused on improving oral health by increasing safety net clinical capacity and building and equipping new brick-and-mortar clinics and mobile dental programs. It soon became clear that the underlying weaknesses of the oral health care system precluded sustainable improvement of oral health inequities unless we focused our strategy more upstream. In 2008, the foundation's name was changed to the DentaQuest Foundation, and we adopted a framework to impact the systems of policy, financing, care, and community. The DentaQuest Foundation has been directing its funding to upstream, systems-based solutions to the oral health epidemic for the past decade.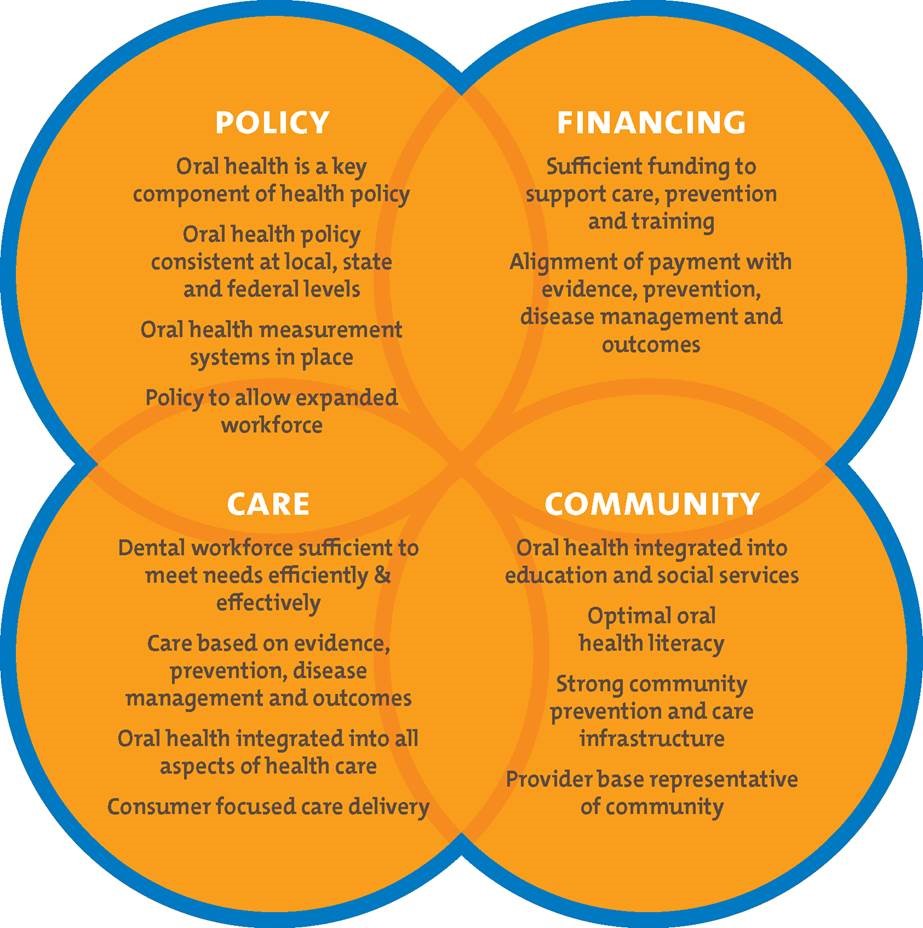 Figure 1:
The Ideal States of the Four Systems Impacting Oral Health – Policy, Financing, Care, and Community
This framework shifted our funding approach and pointed to a new strategy to support systemic improvements. The idea of forming an oral health network emerged, beginning with state-based coalitions and oral health experts (grassmiddles), expanding to national partnerships (grasstops), and community-based organizations (grassroots). By investing in the Oral Health 2020 network, we have connected advocates in states and local communities from across the country, all of whom are aligned around a set of common goals and are committed to addressing oral health with an approach that prioritizes equity. We are funding work that will create long-lasting, significant changes that improve oral health; set a precedent for a healthier population; and change the expectation of what it means to be healthy. The Oral Health 2020 network now counts more than 1,000 stakeholders in its ranks and is growing. It is a national network, with representation from individuals in all 50 states, and a membership community that includes professional associations, providers, state coalitions, policymakers, community activists, and more. Since its inception, the network has contributed to significant policy and systems changes, including:
15 states preserving or expanding dental benefits in publicly funded coverage;
11 states strengthening state-level oral health infrastructure, either with the establishment of new oral health director positions or filling the positions with dental professionals;
seven states including oral health in the implementation of the Affordable Care Act provisions; and
four states improving dental reimbursement rates.
The network also built and strengthened relationships with the policy community, convening elected officials, Medicaid agencies, state advocacy groups, health insurers, and community health agencies. It has also included an intentional effort to integrate the voice of those most impacted by oral health disparities into the development of its strategic direction.
These impacts each involved dozens of partners and hundreds of hours of work. They were years in the making, and have not been without challenges. In fact, the development of the network followed a similar genesis that our own foundation underwent. The learnings from this metamorphosis are detailed in a recent article in The Foundation Review.
The Oral Health 2020 network has been, and will continue to be, an Alignment Network, connected by shared goals, authentic relationships and a densely woven social network. Its success is due to the coordinated and aligned efforts of individuals and organizations that may previously have had competing agendas. As a member of the network, the DentaQuest Foundation is committed to continuing to provide resources, capacity building, and technical assistance to advance this movement forward. As a funder, we know we cannot do it alone. This is a challenge that will take more time and coordinated effort to meet. Oral Health 2020 has changed the way our partners view the issues of oral health disparities and strategize about local and regional solutions. DentaQuest has made the down payment by investing in building and strengthening this network, to a point where it is now ready to mobilize and coordinate its actions and messages on nationwide scale. We need and encourage health funding partners to include oral health as a component of health in their theories of change.
To realize the network's vision of oral health as essential to well-being and accomplish its ambitious goals, we are seeking relationships with funders, who will partner with us to jointly support local stakeholder activity, and invest in changing how oral health is valued, accessed and experienced in the United States. We are currently implementing a successful partnership model with the California Wellness Foundation to separately (but cooperatively) build the capacity of a statewide community based organization to bring multiple stakeholders together to align a statewide oral health strategy. Another example is in North and South Carolina, where the Duke Endowment made grants to local school districts to join a national learning collaborative led by the National Association for School Based Health, which our foundation has funded to bring together the nation's largest school districts to develop effective models for school systems to address oral health.
We would love to explore additional partnerships that enable regional and state funders to leverage the capacity and expertise of this national network. There are multiple models for funder partnerships that we would like to explore. We invite you to join us to address the previously silent epidemic of poor oral health and improve the health and lives of millions.