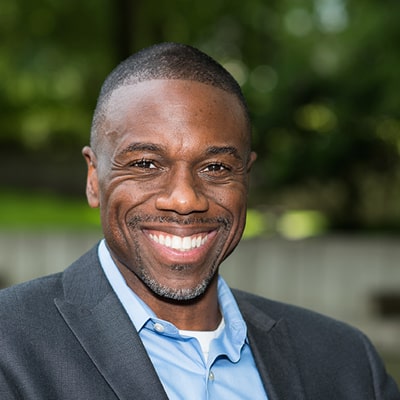 Michael Brown, Vice President, Community Programs of the Seattle Foundation, will receive Grantmakers In Health's (GIH) 2018 Terrance Keenan Leadership Award in Health Philanthropy. The award recognizes outstanding health grantmakers whose work is distinguished by leadership, innovation, and outstanding achievement.
The Seattle Foundation, which operates with the mission to ignite powerful, rewarding philanthropy to make Greater Seattle a stronger, more vibrant community, manages nearly $1 billion in philanthropic investments. As Vice President, Community Programs, Mr. Brown spearheads the foundation's targeted community impact work aimed at advancing equity and opportunity.
Since beginning his tenure at the foundation in 2001, Mr. Brown has led efforts to elevate community voice and foster public-private partnerships, tackling complex challenges in the areas of affordable housing, economic and racial equity, and policy and advocacy. In nominating Mr. Brown, Theresa Tamura, Senior Advisor with Group Health Foundation, cited his "outstanding vision, insight into the challenges of tomorrow, and leadership in creating long-term solutions for communities."
An early and outspoken champion for ensuring general operating and organizational capacity building support for grantees, Mr. Brown's work has secured funding for innovative programs that benefit historically underserved communities. His efforts to engage funders around these priorities resulted in the development of the Statewide Capacity Collaborative, a hub for Washington-area grantmakers to align funding to strengthen the capacity of nonprofits and the statewide nonprofit ecosystem. To date, the collaborative has made aligned investments of over $6 million across the state, as well as $950,000 through a pooled fund.
Mr. Brown also led the development of the Seattle Foundation's Center for Community Partnerships, which focuses directly on targeted efforts to achieve greater racial and economic equity. Understanding that social problems are products of networks of cause and effect at a policy level, the center prioritizes advancing systems change as the most effective way to advance this goal. The center currently runs Communities of Opportunity, to improve health, social, racial, and economic outcomes by focusing on places, policies, and systems changes; the Vibrant Democracy Initiative, to strengthen the voice and participation of underrepresented communities; and Neighbor to Neighbor, a grants program that awards funding and technical assistance to small, grassroots organizations. Together, these programs create a holistic approach to community-engaged systems and policy change.
Mr. Brown is an American Marshall Memorial Fellow and a graduate of Leadership Tomorrow. He is Commissioner at the King County Housing Authority, and President of the Building Changes board of directors. He also serves on the boards of Futurewise, Neighborhood Funders Group, and the Washington State Budget and Policy Center.
Prior to joining the Seattle Foundation, Mr. Brown served as a legislative aide to City of Seattle Councilmember Richard McIver and as Deputy Director for the Washington Association for Community Economic Development, a nonprofit organization that provided training and technical assistance to statewide community-based development organizations. He received his master's degree in public administration from the University of Washington and his bachelor's degree in political science from Loyola University.
GIH established the Terrance Keenan Leadership Award in Health Philanthropy in 1993 in honor of Terrance Keenan and his more than 40 years of contributions to the field of health philanthropy. The award will be presented to Mr. Brown on June 21, 2018 at the GIH Annual Conference on Health Philanthropy in Chicago, Illinois.