GIH COVID Policy
Grantmakers In Health (GIH) considers the health and safety of all those on-site at our 2022 Annual Conference on Health Philanthropy a top priority. As such, all in-person conference participants, speakers, and GIH staff and representatives will be required to present proof of vaccination for COVID-19 before attending any conference programs.
At this time, we are preparing to implement the following health and safety protocols to reduce the risk of COVID-19 transmission and illness at our in-person conference:
All in-person conference participants, speakers, and GIH staff and representatives will be required to present proof of vaccination for COVID-19 prior to arrival at the conference venue. In-person registrants who do not upload proof of vaccination will be invited to attend virtually instead.
Registrants with a medical condition that prevents vaccination may participate virtually or take the following actions to participate in-person:

upload a health provider's verification of the need for a medical exemption,
agree to wear a mask at all indoor conference events, except while eating and drinking, and
upload proof of a negative COVID-19 PCR or antigen test administered within 72 hours before the start of the conference. Uploaded test results must list the registrant's name, results, and a time stamp. At home tests will not be accepted.

Room layouts will be modified to allow for physical distancing and limited seating per table, when possible.
We will work with our host hotel, the Loews Miami Beach Hotel, to ensure all conference rooms are cleaned and sanitized before and after breakout and general sessions. For more on Loews Hotels' health and safety protocols, you can review their website here.
Miami's COVID-19 community level remains high, so we are taking the additional precaution of requiring masks when indoors at the conference, except when eating or presenting.
By registering for the conference, all participants are agreeing to comply with GIH's COVID-19 related policies.
GIH may update our COVID policy to address emerging issues. Please continue to refer back to this website to keep up to date. If there is a significant shift in policy, we will email conference registrants directly.

Grantmakers In Health will be using Health Pass by CLEAR via a free mobile app.
For the most efficient entry possible, every attendee should enroll with CLEAR before the event to complete their COVID-19 pre-screening. Once your vaccination record has been uploaded to the platform, it can typically take up to 30 minutes for your status to be verified. 
Click here to download the app FAQ
COVID Testing Sites Near the Loews Miami Beach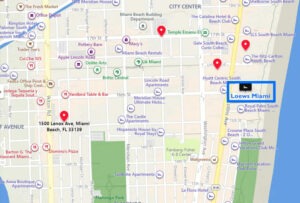 📍 CVS (2 blocks away)
306 Lincoln Rd
📍 Walgreens (2 blocks away)
1669 Collins Ave
📍 Miami Beach 17th Street Garage (.5 mile from Loews)
530 17 ST Miami Beach
📍 Lenox Ave Trailer (.7 mile from Loews)
1500 Lenox Ave
Where is My Meeting Room?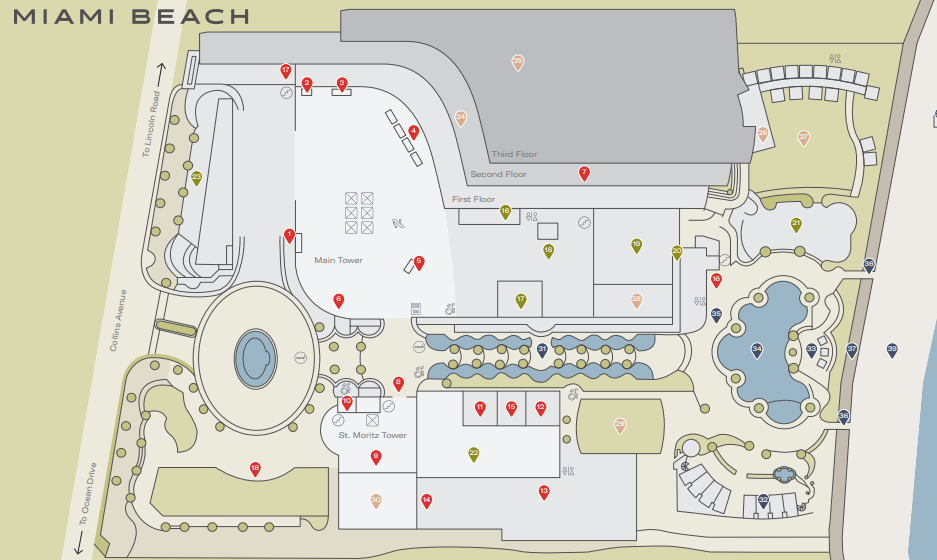 Loews Miami Beach Conference Floorplan
GIH Non-Solicitation Policy
GIH strives to create a space for funders to learn from and connect with one another; a space for candid conversation that is free of solicitation. We do have non-funder presenters and attendees, and ask that they keep the following guidelines in mind:
Fundraising and client solicitation are prohibited at the GIH annual conference. While it is permissible to follow up with contacts made at the meeting at their invitation, we ask that this not happen in advance of the meeting.
We do not allow additional or substitute representatives from a non-funder presenter's organization to attend any portion of the meeting.
For those organizations that both raise funds and make grants, we ask that your participation during the meeting activities be as a funder only (unless as part of your session participation).
Contact information on the participant list is for networking purposes only. Nonfunders should not add an individual's contact information to your organization's mailing list without that person's permission.
GIH Code of Conduct Policy
The GIH conference is a space dedicated to learning, and it is important to us that all participants feel welcome. GIH appreciates your partnership in ensuring that the professional environment we share is one defined by mutual respect and inclusiveness, where dignity and diversity are valued. If you experience or witness offensive language, inappropriate behavior, or harassment of any kind while attending GIH event or program, please alert a member of the GIH staff.
GIH Social Media Policy
Tweet along using #GIHac and following us @GIHealth! Please note that presentations and panelists' remarks are considered on the record and quotable, but that GIH follows the Chatham House Rule for question and answer periods and group discussions. Participants are free to use the information received, but neither the identity nor the affiliation of the speakers(s), nor that of any other participant, may be revealed.
GIH Photography/Video/Audio Taping Release
GIH strives to capture the community, peer-learning environment of our conferences. To do so, we photograph and record various aspects of the conference, and your image and voice might be captured. Furthermore, we may use these photographs and videos for future distribution and promotional purposes in our print and online communications materials. By participating in this conference and/or being present at the venue, you authorize GIH to use and reproduce any photographs taken, without compensation. All negatives and positives, photographic prints and digital photo files shall constitute GIH property, solely and completely.
Conference Liability Waiver
I hereby assume all of the risks of participating in this event, and waive, release and discharge the Grantmakers In Health and their directors, board members, officers, and employees from any and all liability. I agree to indemnify, hold harmless, and promise not to sue the entities or persons mentioned above from any and all liabilities or claims made as a result of participation in this activity or event.
Registration
| Rate | In-Person (Through June 10) | Virtual (Through June 10) | In-Person (After June 10) | Virtual (June 11-24) |
| --- | --- | --- | --- | --- |
| GIH Funding Partners | $800 | $300 | $950 | $450 |
| Non-Funding Partners | $1,400 | $600 | $1550 | $750 |
Eligibility
This year's conference is open to the staff and trustees of entities whose primary function is charitable grantmaking to multiple individuals or organizations (i.e., foundations, corporate giving programs, and other grantmaking institutions); the staff and trustees of operating foundations; the staff and trustees of regranting institutions; the staff of federal, state and local government agencies; the staff of national and regional philanthropy serving organizations; faculty and staff of academic institutions who are working on projects related to philanthropy or health, and philanthropic advisors as defined in our eligibility criteria. Other organizations conducting work that benefits health philanthropy and aligns with GIH's mission, vision, and values may contact gih@executivevents.com to inquire about conference eligibility.
Ineligible Registrations
All registrations are reviewed to ensure they meet the GIH eligibility policy. GIH reserves the right to refuse or cancel ineligible registrations at any time and shall not be held accountable for any outside fees associated with this cancellation.
GIH Cancellation Policy
All cancellations will be subject to a $50 administrative fee and must be submitted in writing to gih@executivevents.com. On or before Friday, May 20, 2022, registrants can elect to switch between the in-person and virtual conference options and will be reimbursed the difference in cost. No requests for refunds will be granted after this date or for no shows.